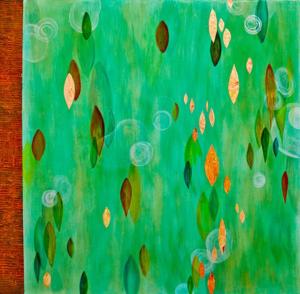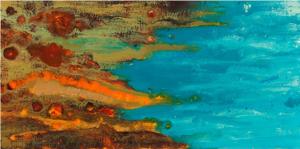 Friedman Fine Art and Chicago Artists are pleased to represent Lynn Basa. Chicago artists proudly represents several  contemporary local artists whose work is shown in corporate, institutional and residential art programs across the Chicagoland area.  Chicago based artist Lynn Basa is one of the talented artists represented.  She is an abstract painter and while she is primarily a painter and printmaker, she also works in glass, stone, steel and mosaic. Her work is included in several public and private collections in the United States, Europe and China. She is also the author of a book called "The Artist's Guide to Public Art: How to Find and Win Commissions," published in 2008. In addition to painting, she completed public art commissions. Some public art commissions include the design for a terrazzo floor, measuring 6300 square feet at the Indianapolis Airport, and a Byzantine mosaic mural for the City of Claremont.
This Chicago based artist effortlessly composes her artwork into pieces that appear to be made without thought. In order to combat the paradox of thinking about the mark to be made on the canvas and keep the work as spontaneous as possible, she tries to set up situations where the materials can respond randomly to her inadvertent attempts at control. For example, by working with fire and beeswax, she has to act quickly and instantaneously with little thought.
Each finished piece thus becomes a Rorschach test full of metaphors that reflects the little conscious thought that goes into them. The themes shown in the pieces reflect the struggle for survival, social relationships, the evolution of oneself during life's journey, the passage of time, and the tension between opposing forces. As a seeing human, she says she finds meaning in everything that is then reflected in her work through her semi-conscious thoughts, even though she may not intend to include it.
For more information on Lynn Basa and other Chicago artists, please visit www.chicago-artists.com.
Let's Be Friends:
Get Your Social On: