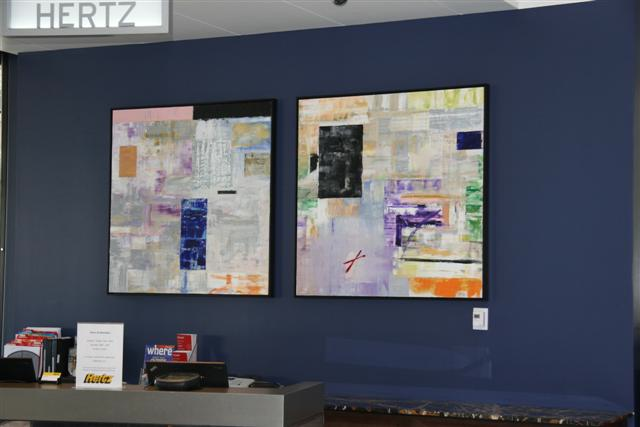 Doug Frohman is a local Chicago artist whose contemporary style has won a wide audience at home and around the country. Collaborating with Loren Friedman of Friedman Fine Art, Mr. Frohman recently placed a large 2 panel work in the lobby of the flagship Hyatt Regency Hotel, 151 E. Upper Wacker Drive Chicago, IL.
The Hyatt commission called, "BORN IN CHICAGO" is drawn from Mr. Frohman's earlier series ABSTRACT NARRATIVES (2007-2011). In that series, sequential panels were paired in groups of 2 or 4 to suggest frames of a film. The idea was that each panel carried elements of the story that come fully to life when sequenced with the other panels in the piece.
Doug Frohman is a prolific contemporary Chicago artist working in oil on canvas.

Another piece from the series, PANDORA follows the ABSTRACT NARRATIVE formula where bold colored passages swirl and interpenetrate each other forming a narrative line that supports the "story" found in each panel, but becomes much richer when sequenced across all four panels. These pieces are all painted with a workman's cement trowel and layered extensively to achieve the final result. Mr. Frohman has exhibited most recently in the lobby of Chicago's iconic Prudential Building and is scheduled for a solo exhibit in New York's Chelsea art district at Kips Gallery, NY.
Let's Be Friends:
Get Your Social On: