http://www.chicago-artsists.com is pleased to announce its representation of Cathy Bruni Norris on it's new website of contemporary local Chicago artists.
Cathy Bruni Norris is a prolific local Chicago contemporary artists working with acrylic paints dripped onto acrylic sheets.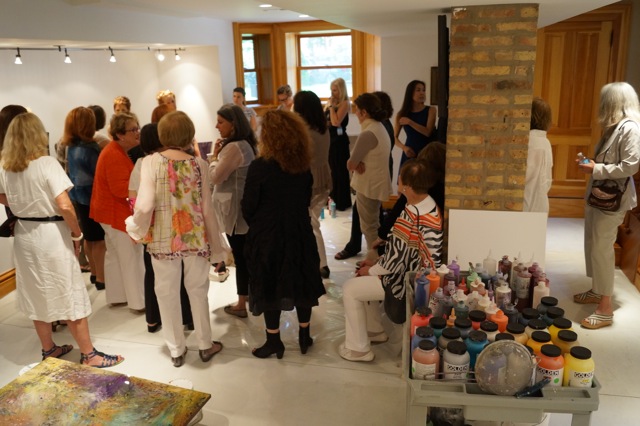 Chicago artist Cathy Bruni Norris held a demonstration on June 17 at her Wicker Park studio, showing her artwork and painting techniques to her guests, the North Shore Affiliate of The Museum of Contemporary Art in Chicago.
The demonstration lasted from 10:30 a.m. to noon, starting with refreshments and continued with Norris giving the 35 members a tour of her studio. After members walked on the first floor, looking at paintings, Norris led them downstairs for her talk about art and her dripping techniques with fluid acrylic medium and paint. She paints on sheets of plexi glass, letting the sheet of glass dry for 24 hours, and reveals the new, different-looking painting on the other side. She did a similar demonstration for her guests, revealing a finished work on the other side. Then she did a demonstration of a different drip technique on a small stretched canvas.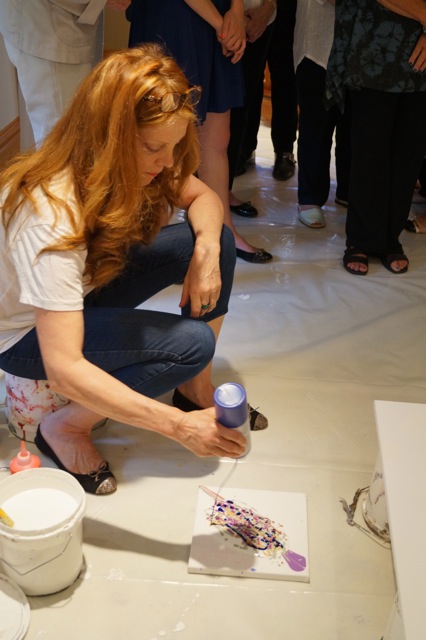 Norris was extremely proud of the demonstration and said, "Everyone was so mesmerized by my work."
Norris explained how she creates New Media, digital art that she is known for. She takes her own drip paintings, scans them onto her computer, and manipulates the art in Photoshop to create new images. "I am interested in the symmetry," she said, and focuses on mirror imaging. She prints the images onto fabric, crystal, and pleather. She displayed wallets with her imagery on them at the demonstration.
One of her favorite paintings, Debussy, was featured at the studio. She said she named it after the French composer Claude Debussy, whom she listened to as she painted the work. The painting is impressionistic, containing an array of blending colors. "This painting works in harmony," she said.
The demonstration was the first she has given for her art and technique. Norris had the event to satisfy the many art-interested groups who visit studios throughout the city, and share her techniques to the art community. She also hopes the demonstration will generate new sales.
"I work for the discoveries and art has taken me on a journey," she said.
To view additional contemporary works of art by local Chicago artists please follow this link Chicago local art and artists.
Let's Be Friends:
Get Your Social On: