Friedman Fine Art represents the works of Michael Finnegan. Mike is one of Chicago's finest contemporary local artists executing three dimensional works of art.
Michael Finnegan combines meticulous craftsmanship,sharp rhythmic compositions, and the underpinnings of jazz to create visually arresting sculptures, paintings, and installations.
While a composition major at Berklee College of Music in Boston, Finnegan maintained a painting practice that soon led to exhibits at an east village gallery, the Emerging Collector, in New York city. Initially influenced by the work of Francis Bacon, Finnegan's painterly style and focus on the figure gave way to what today may be seen as hard-edged abstraction. He acknowledges the influence of color theorists Joseph Albers and Johannes Itten and Op-art painters, such as Bridget Riley. However, while visual comparisons to their art and that of the 1960s minimalists may be apt, Finnegan isn't concerned with furthering a particular aesthetic ideology.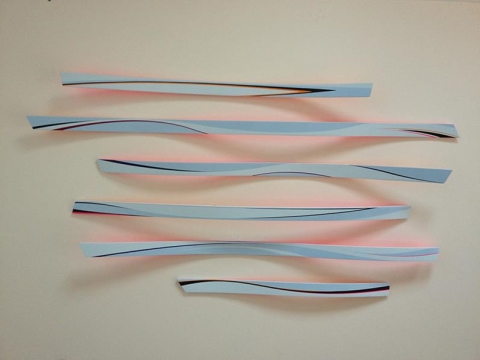 Finnegan's tightly orchestrated compositions of color and pattern evolve from a love of music and its inherent melodic, harmonic and rhythmic structures. In a recent commission for Neiman Marcus, Finnegan creates visual riffs based on the harmonic form of two jazz standards, Tune Up and The Song is You. As with his previously executed, Coltrane-inspired painting Countdown, Finnegan develops visual groupings of color and shape that correspond to key signatures and chord changes. An intuitive arrangement of these motifs, or "chords," is played out over a solid color field that visually establishes a strong tonal center for the various hard-edged, organic graphic elements. The result is compositions that are both spontaneous and cohesive.
Finnegan's rhythmic arrangements also recall water, waves, sound, and light. Raised in Hawaii and on the Chesapeake Bay, Finnegan lived and worked in Seattle and on Deer Isle, Maine prior to living in Chicago. Metaphorically, tangentially, and as analogs, these motifs, born from a life spent near the water, connect him to these places.
Strengthening the visual complexity of his work is an unerring commitment to craftsmanship. Finnegan's sculptures are meticulous owing to a fastidiousness honed by years as a carpenter of furniture, cabinets, staircases, and historic preservation projects. Today, in his Chicago studio, Finnegan uses sculptural matrix, in lieu of canvas, for paintings that one appreciates in three-dimensions. These hybrid works—sinuous arcs, stacked trapezoids, and complex boxes devoid of right angles—are painted smoothly and with polish. Materials include furniture grade plywood, Kevlar, canvas, and velvet, adhesive vinyl, and acrylic paint. Counted among his tools are pencils, sable brushes, power tools, industrial HVLP spray guns, and a laptop.
Finnegan's installation art includes a lobby-transforming work in the world famous Sears Tower and The Olympia Center on Michigan Avenue, Chicago. He has also created works for private collectors and corporate commissions for such clients as BMO Harris Bank, Neiman Marcus and InSite Real Estate.
If you would like to view additional works by Michael Finnegan please follow this link Contemporary local Chicago painters and artists.
Let's Be Friends:
Get Your Social On: