Friedman Fine Art and https://chicago-artists.com are pleased to represent the beautiful works of contemporary Chicago Artist Doug Frohman.
Doug Frohman is fascinated by how things in nature are arranged and relate to one another to produce the reality we see. In his paintings, he creates narratives that focus on logical relationships and the elegant construction of nature. His "Abstract Narratives" contain compositions within larger compositions, separated by panels resembling film frames. Each work contains a story with scenarios and characters that develop according to how the viewer makes associations and connections in the grouping of images.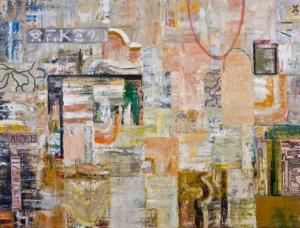 In his most current art series called "Equations," he explores proportional relationships and the emotional impact of color in a 3-D space. He starts each work with a simple structure and adds details in texture, color, and design that transform the work into a complex piece. Frohman likes to paint with a workman's cement trowel instead of brushes, which emphasizes physicality in the work and the role of the surface in his canvas.
Frohman's work has been featured in many solo and group exhibitions in Chicago and the United States, including most recently the Kips Gallery in New York, NY in 2014, the Prudential Building in Chicago in 2014, and the Art Expo Chicago at Merchandise Mart in 2011. His pieces are found in private and public collections throughout the country, from the Weiss Memorial Hospital in Chicago to the Library of Congress in Washington, DC.
To view more Chicago artists and their marvelous artwork, follow this link, Chicago Artists – Fine Art by Local Chicago artists.
Let's Be Friends:
Get Your Social On: