Friedman Fine Art is pleased to represent the marvelous works of Chicago contemporary artist Rene Romero Schuler. One of the most important and well-collected contemporary artists, Rene Romero Schuler has artwork on display in public collections in Chicago, including inside the Prudential Building and in the permanent archives at the Art Institute of Chicago. Schuler's style has been described as abstract expressionism, with her own sensibility. A self-taught artist, Schuler pursued an education in interiors and started her own painting business in addition to creating her own works of art.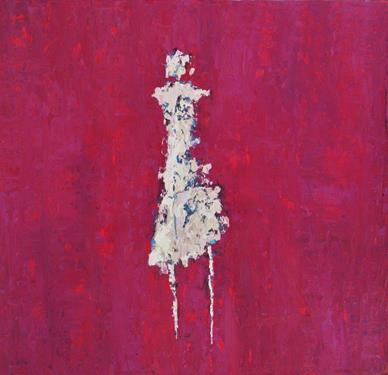 Alma oil on canvas 30 in. x 30 in.
Whether on canvas, paper or through sculpture her works explore femininity, spirituality, beauty and convey optimism to her audience. In her paintings, Schuler applies oil paint in layers and uses palette scratches and bold colors to create tension. René Romero Schuler: Life and Works, a book released in 2013, showcases her images and her artistic process. She has been featured in numerous exhibitions, her most recent being at St. Thomas University in Miami, Florida in April 2014.
Currently, she teaches at the Illinois Institute of Art and Chicago City Colleges and holds lectures at Northwestern University's Kellogg School of Management. She is a board member of the Loyola University Museum of Art.
Please view additional works by Rene Romero Schuler and over 30 other fabulous local contemporary Chicago artists by following this link www.chicago-artists.com.
Let's Be Friends:
Get Your Social On: