Friedman Fine Art and Chicago-artists.com are pleased to represent Jay Zerbe, a Chicago artist. Zerbe's intent is to create a new world by highlighting each place's/space's emotional tone. He creates dynamic rhythm and flow through his paintings by using different color palettes and mark-making vocabulary.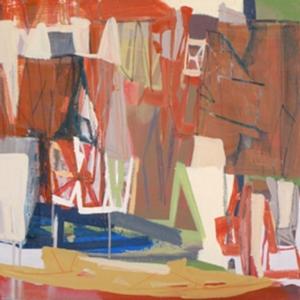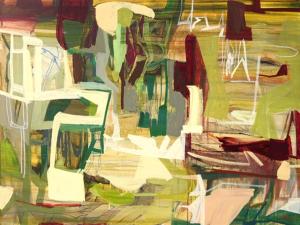 Viewers of Zerbe's work are taken on a journey unique to their own perception of the piece. Zerbe's intent is to provoke new takes on the same painting each day. His work is sensitive to being under various lighting, so the painting changes at different times of day. The painting viewed at dawn is slightly different to the one viewed in the afternoon, which is slightly different to the one viewed at dusk. A viewer may see a painting in a different mood as well, furthering the perception of a changing painting. Zerbe's pieces are intended to be for the wandering, contemplating, and imaginative viewer.
Zerbe's work is non-linear and changes based on his personal experiences throughout the day. In 2005, after he began painting on canvas again, his works resembled collages. His work became increasingly influenced on what he saw during his day. This resulted in painting virtual worlds. His work morphed into a reflection of the world he experiences looking out his window or walking to his studio in near-North Side of Chicago in 2011 after he returned to painting full-time. Influenced by alleyways, sidewalk cracks, three-flats, and the ever-changing colors of Lake Michigan, Zerbe's work takes the viewer on a journey. After moving east of Chicago in 2012 to an area rich in nature, Zerbe has painted with each day's images with a visual language lodged in his brain.
He invites each viewer to spend time with the painting and see where the visual journey takes him or her.
Please visit www.chicago-artists.com for more information.
Let's Be Friends:
Get Your Social On: