Friedman Fine Art and https://chicago-artists.com are pleased to represent the beautiful and amazing works of Chicago contemporary artist Lynn Basa.
Lynn Basa is an abstract painter and public artist living in Chicago. Her works are featured in the collections at universities, hospitals, and private residences. While Lynn is primarily a painter and printmaker, she also works in glass, stone, steel, and mosaic. Lynn works in her private studio in Chicago and has exhibited widely.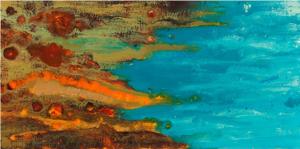 Basa earned a Bachelor of Arts, studio art and art history, at Indiana University in 1977. In 1981, she received a Masters in Public Administration, public art policy and management at the University of Washington. She is also the author of a book called The Artist's Guide to Public Art: How to Find and Win Commissions, published in 2008.
In addition to painting, she completed public art commissions. Some public art commissions include the design for a terrazzo floor, measuring 6300 square feet at the Indianapolis Airport, and a Byzantine mosaic mural for the City of Claremont.
Currently, she teaches at the Graham School at the University of Chicago but she has also taught at the School of the Art Institute of Chicago in the Sculpture department. She is represented in the permanent collections of the American Craft Museum, Rhode Island School of Design Museum and the Spencer Museum to name a few.
If you would like to view additional works of art by Lynn Basa and other local contemporary Chicago artists please follow this link https://chicago-artists.com.
Let's Be Friends:
Get Your Social On: