Friedman Fine Art and Chicago Artists present, David Becker, the Chicago based artist who works in many mediums, including Watercolor, Oils and Acrylics. While he works with a variety of mediums, Becker is mostly recognized for his watercolor scenes of Chicago. You can find much of his works hanging in homes and businesses throughout this fine city and most prominently in many Starbucks coffee shops in the city and suburbs.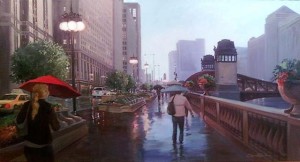 Along with his artworks, Becker has published two books with North Light Art Books Publisher, Watercolor Composition Made Easy, and How to Sketch with Watercolor and has written for publications such as International Artist, American Artist and Watercolor Magic magazine. Below are a sample of Becker's fabulous watercolors.
For more information on purchasing or commissioning beautiful artworks by David Becker, please follow the link to chicago-artists.com, or call us at 312–666-9797.
Let's Be Friends:
Get Your Social On: