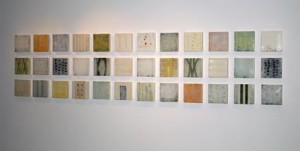 Fugue Installation Oil on canvas, 8″ x 8″.
Variation 53 Acrylic on Canvas 32.2″ x 56.2″.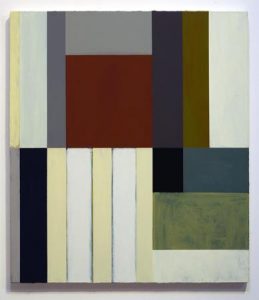 Variation 52 Acrylic on canvas, 32″ X 28″
Chicago-artists.com is pleased to represent Chicago based artist Paul Rinaldi. Since getting his MFA degree in Painting & Drawing from the City University of New York, Brooklyn College, he has participated in several individual and group exhibitions in the United States, Europe, and the Middle East.
In 1988, Rinaldi received the Silvermine Guild Prize for Painting in the Art of the Northeast USA exhibition juried by Linda Shearer, Curator of Contemporary Art at New York's Museum of Modern Art. From 1991 to 1998, Rinaldi taught painting and drawing at the American University in Cairo, Egypt. Currently, he teaches and coordinates the Fine Arts Program at Prairie State College and showcases his art in Minneapolis at Circa Gallery and in Chicago at Perimeter Gallery.
Rinaldi specializes in non-representational work in encaustic, acrylic, and mixed media with the intent to create art "that speaks with the lyrical qualities of poetry and the abstract rhythms of music."
For more information on Paul Rinaldi and other Chicago artists, please visit www.chicago-artists.com.
Let's Be Friends:
Get Your Social On: